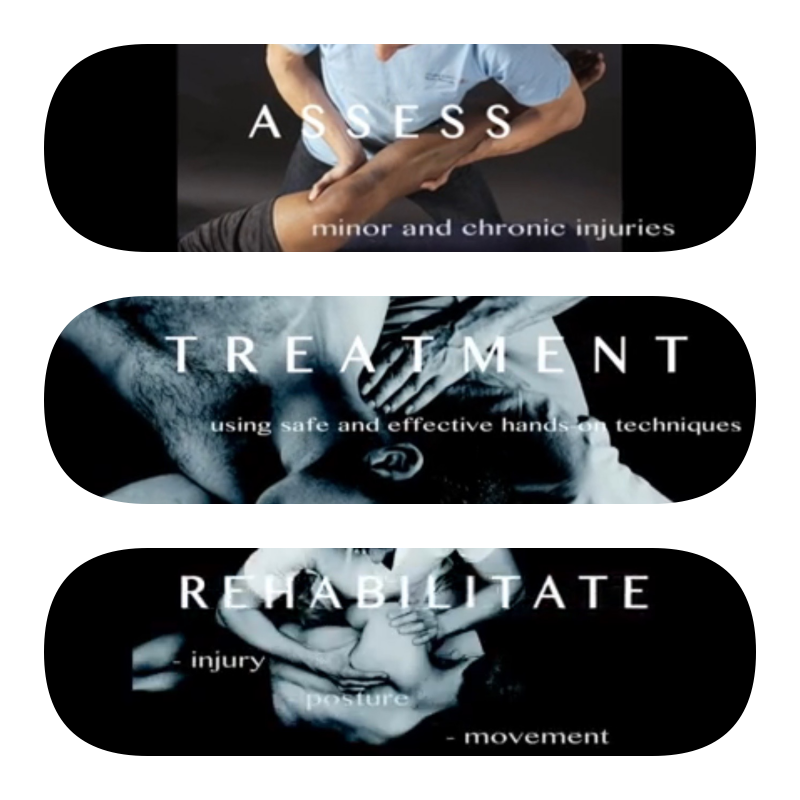 What Do These Titles Mean?
Masseur (male), Masseuse (female) or Massage Therapist:
Someone who can give routine massage treatments. This has a very wide range of uses for general wellbeing and relaxation.
Sports Massage Therapist:
Someone who gives a deeper massage which aims to help athletes prepare and recover better from hard exercise or competition. Many non-sports people like this deeper massage because it can help relieve minor aches and pains.
Sports and Remedial Massage Therapist:
A therapist who uses massage and more advanced techniques to help improve the recovery of common sports related injuries. People with non-sports injuries can find this equally beneficial.
A therapist who can work independently to Asses, Treat and offer Rehabilitation advice for people suffering a wide range of minor and chronic injuries caused by any lifestyle factor. As well as treating the injury they aim to identify the underlying causes and offer more long-term improvements in physical wellbeing.
Other Commonly Used Titles.
Someone who uses their body (usually their hands) to treat another person. So any of the above could claim this title.
Someone who treats by manipulating the body, so it could be used by a wide range of therapist but more usually by Osteopaths and Chiropractors.
Much the same as Sports Massage but commonly used by those who treat non-sports people.
There are Degrees and Diplomas in sports therapy and the title should only be used by those with these qualifications. This Therapy has emerged through the sport and fitness sector (not the Complementary Healthcare sector) and its primary focus is on sports performance.
Usually massage or soft tissue therapist who specialises in this one particular technique.
Probably the same as a Sports Therapist.
What Title Should We Use?
Because there is no Statutory Regulation in this sector, therapists can use any title that is not otherwise protected, like Physiotherapist, Osteopath or Chiropractor. However, the title must be fair and honest so you should only use the correct title that fits your qualification. It is not illegal for Level 3 Massage Therapist to call themselves a Soft Tissue Therapist but this is not honest and could be judged unfair by the Advertising Standards Authority.
Professional indemnity Insurance is based on the training level of the therapist. So if Level 3 or 4 Massage Therapists claims to be a Soft Tissue Therapist and treats specific injuries as they were, they may no longer be covered by their Insurance.
Because Soft Tissue Therapy includes Sports Massage. and this can still be a big part of the job, it is still fair honest for them to use the ' Sports Massage' if they want to. Indeed, many use both and have two different business cards to promote their work.
Thanks For Reading Our Article.